I'm a researcher of higher education and the academic profession. So far in my career this has meant that things have tended to get pretty meta. I was the Masters student who wrote about writing and the doctoral student who did a PhD on what it feels like to do PhDs. I have also been the writing instructor who writes about instructing writing, and the mobile academic who investigates academic mobility. While some might see my topic choices as a form of morbid self-absorption, I've tended to see this as a desire to begin where I am. Often I find myself using my ordinary environment and practices as a platform for inquiry. I think this can be valuable, as inhabiting a role or position can bring with it lots of questions, and research can be a helpful way to open ourselves up to further curiosity and even the odd answer. Perhaps at a broader level this is something that higher education researchers are always doing, as we go about researching our own profession and working contexts.
With all this said it is perhaps unsurprising that I have also been involved in another meta project recently, a cultural history about a conference I have been closely involved with since I first served on the conference committee in 2012. The conference is called International Academic Identities (AIC) – held bi-annually – and the sixth conference just past. A group of researchers who have been associated with the conference received funding from RIHE (the Research Institute for Higher Education at Hiroshima University) to conduct three projects about academic identities. The first project is coordinated by Machi Sato and is about conceptualising the academic profession in Japan. The second project is coordinated by Barbara Grant and Frances Kelly and explores the how place, space and time shape the formation of doctoral identity. The third project led by Tai Peseta is called A decade of dialogue: a social history of the International Academic Identities Conference 2008-2018, and this third project is the one that I am currently involved with, alongside a crew of colleagues based in Japan, Australia and the UK.
We have already reported on aspects of this project on Conference Inference, beginning with the post on last year's SRHE conference which I presented some early thoughts at, and more recently with Tai Peseta's post on conference keynotes. In this post I want to share some further thoughts now that our team has begun collectively presenting our work.
Before I dive in to reflect on the session, for those who are interested in AIC more generally, you can check out #ACIDC18 on Twitter, or read Agnes Bosanquet's lovely piece Impressions from the Peaceful University on her blog The Slow Academic. In this post Agnes has shared about the theme of the conference, its location and presentations interspersed with images and tweets that surrounded the conference.
A decade of dialogue: A symposium offering early deliberations from a cultural history of the Academic Identities conference
According to the program booklet, the symposium was to offer "a critical and reflexive examination of the Academic Identities conference (AIC) – the very conference that delegates have arrived in Hiroshima to participate in". It was also positioned as "an opportunity to pay sharper attention to the practices of the conference itself". While anyone familiar with conferences knows that conference abstracts often do not bear fidelity to conference talks, I reckon this is a fairly good summary of what each of these talks were trying to achieve. All three of the presentations took up a particular angle on the conference: keynotes, gender and care, and what it might mean to meet ourselves, meet the audience, and meet a discipline?  
In her framing of the project at the beginning of the symposium, Tai Peseta reflected that the project came about because a group of colleagues who had been involved in AIC for some time had been thinking:
It would be valuable to document the history of the AI conference for those new to it (which is in part a response to very few histories of HE conferences)

It would be useful to speculate on whether (how) or in what ways the conference has contributed to the field of academic identities research

It would be valuable to add the particularity of this conference to the growing research literature on 'conference pedagogy' (and the work conferences do to, and for, academic and scholarly formation).
Tai then offered some general responses to the question: why did our team think it would be useful to focus on conferences?
1)  Because of the work they do to form scholars (for both good and ill, and in formal and mundane ways)

2)   Because of their role in the production of knowledge and reproduction of research fields

3)   Because they are often seen (and described) as sites of fellowship, friendship and community (intellectual homes that people keep returning to, or sometimes leave with a bang, or regret)

4)   Because it's interesting to think on how different disciplines and professions do, and position the work, of academic conferences (to ask: what do those logics teach us about cultures of academia and the university)

5)  Because they are curious pedagogically – scenes saturated with all sorts of different, generative and uneven access to power, capital, reputation and success (bodies, inclusion-exclusion, cost, expectation-desires-disappointment, slips and mishaps, recognition and misrecognition).
Tai then explained that all of the papers drew on one of the qualitative data sets from our cultural history, which comprises 32 semi-structured interviews with AIC convenors, keynotes, and delegates (some of whom we chose because we were interested in the PhD student experience of being at the conference).
Between emotion and affect in the conference keynote: Tracing emotion and desire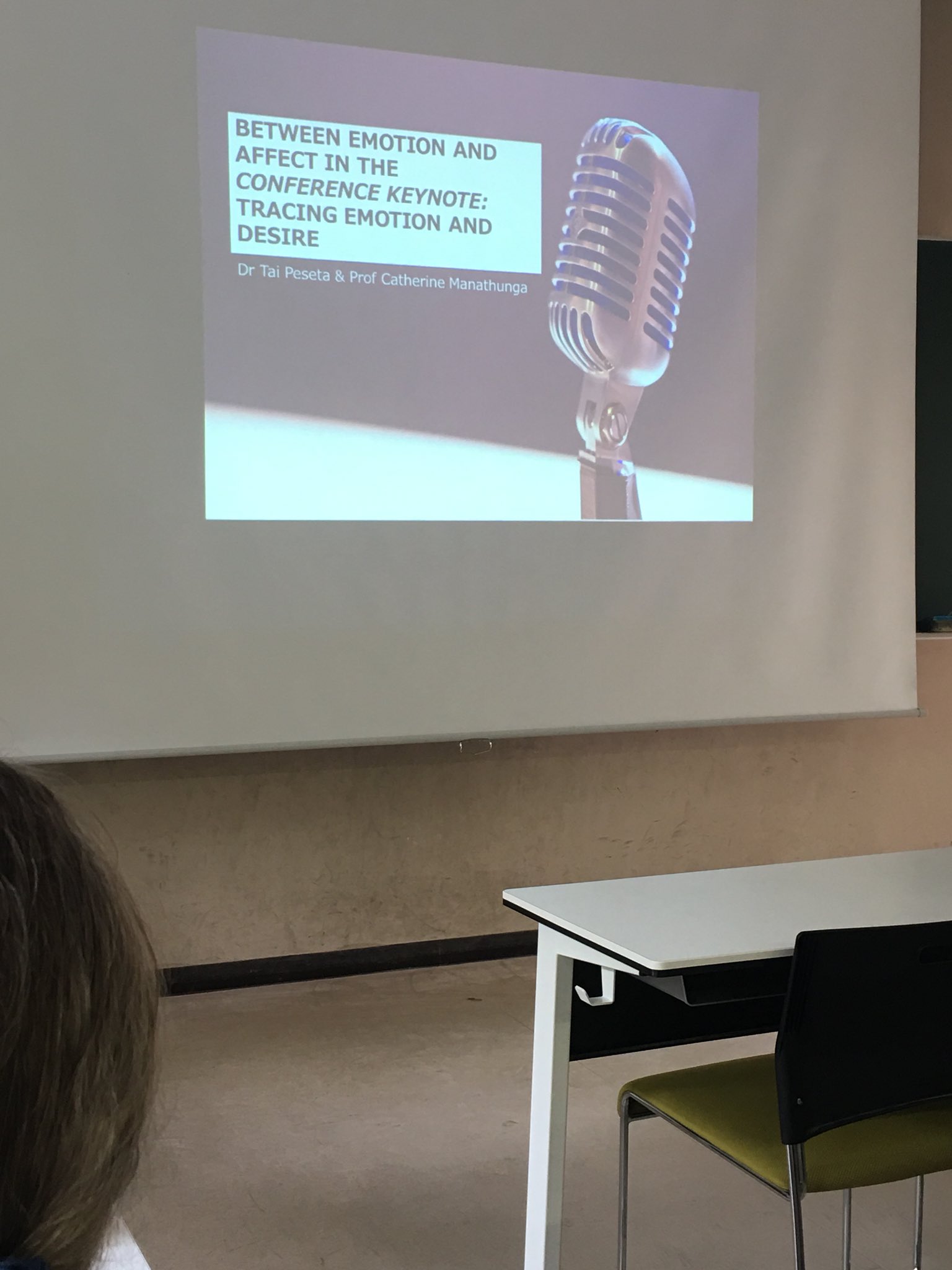 Tai Peseta and Catherine Manathunga were the first up to speak. The audience included some of the keynotes speaking at the current conference, which just added to the layers of the conversation!
Tai and Catherine began by mapping how they see the conferences literature – seeing 7 groupings ranging from 'how to do a conference' to the publication of the text of the 'keynote address' itself. They outlined that the way in which they have been thinking about conferences is to see them as a form of pedagogical practice that warrants interrogation, and to "ask questions of the work keynotes do in relation to the desires we have about our own and others scholarly formation, as well as the formation of research fields". Rather than being about how to make conferences better, Tai and Catherine positioned their inquiry as being about "what keynotes do, what they represent and mobilise about the desires we have for our academic lives, others, and the fields of inquiry we labour in, and they outline how they have been trying to trace "flows of desire across, between and within conference organisers, keynote presenters and delegates".
In particular, Tai and Catherine looked at why convenors had invited keynotes. The responses ranged from feelings of admiration and intellectual debt, to the pragmatics of conference financing and broader concerns about what the keynote might do for the field.
When the transcripts of keynotes were considered, a number of other desires were traced, ranging from animating the conference themes, being provocateurs or speaking to the location where the conference was held, among others.
In addition to the generative and generous feedback from those in the audience – mainly to do with possible lines of connection to the literature on the 'lecture' and interrogating an assumption that keynotes ought to 'satisfy', the presentation ended with three threads of curiosity that Tai and Catherine are continuing to pursue:
Keynotes are an interesting site for interrogating the production of desires

Keynotes mobilise our desires as scholars

Keynotes generate contradictory affects
Who cares? Gendered care-work and the limits of care at the "friendliest conference in the world"
The second talk was given by Jan Smith, Agnes Bosanquet and me (James Burford). We explored the ways in which caring and being cared for in a homely and welcoming conference space might reveal the 'academic housekeeping' practices that tend to underpin conferences
While we found the words 'welcoming', 'homely', 'warm' and 'friendly' recurring across the thirty-two interview transcripts, we were interested both in why people felt cared for and moments where care seemed to lapse for participants.
However, the focus of our presentation was on the labour that underpins the production of this sense of care and community. In our study what stood out was the different perspective that conference organisers provided on creating this homely and welcoming space, describing it as a 'labour of love' involving a great deal of 'hidden work'. One of the conference organisers we spoke to discussed the gendered labour of creating a homely and welcoming conference space. She noted that she arrived to the conference venue early and noticed the rooms were unclean, which prompted her to '[get] the fucking vacuum cleaner out'. Her account of convening was full of care, taking care of the bodies of keynotes, or other bodies that might be cold. Another convenor also spoke about the importance of offering care, even finding a new pair of stockings for a delegate who'd laddered her own on the way to the venue!
In our reading of these cases we wondered if they echoed the subject position of the 'supportive mother' that Liz Jackson (a previous Conference Inference contributor) has identified. By taking up the position of the 'supportive mother' at conferences, we suggested that convenors enable warm and homely touches, and anticipate and attend to the needs of delegates and keynotes. Our goal in tracing these moments in the transcripts was to think about how this affective performativity might be recognised as labour.
 Meeting ourselves, meeting the audience and meeting a discipline?
In the third talk Agnes Bosanquet appeared again, this time accompanied by Jeanette Fyffe. Agnes and Jeanette identified their key questions as follows:
How can people be encouraged to share ideas?
How might presenters communicate their work and findings in a way that makes sense to the audience?
How might both audience and presenters be encouraged to feel comfortable enough, in a short period of time, to genuinely engage with each other so that all of those present have some opportunity to develop their understanding?
Bosanquet and Fyffe positioned conference presentations as intersubjective learning experiences and as sites for 'dialogic connection'. Such a framing requires some conceptualising of the other, generosity and the ethics involved in creating and performing individual academic identities (meeting ourselves), establishing relational and collegial identities (meeting an audience) and researching academic identities in a community of scholars (meeting a discipline). They identified the thinking of Jessica Benjamin on the ethics of dialogue being an expression of intersubjectivity as an especially helpful resource for furthering this work.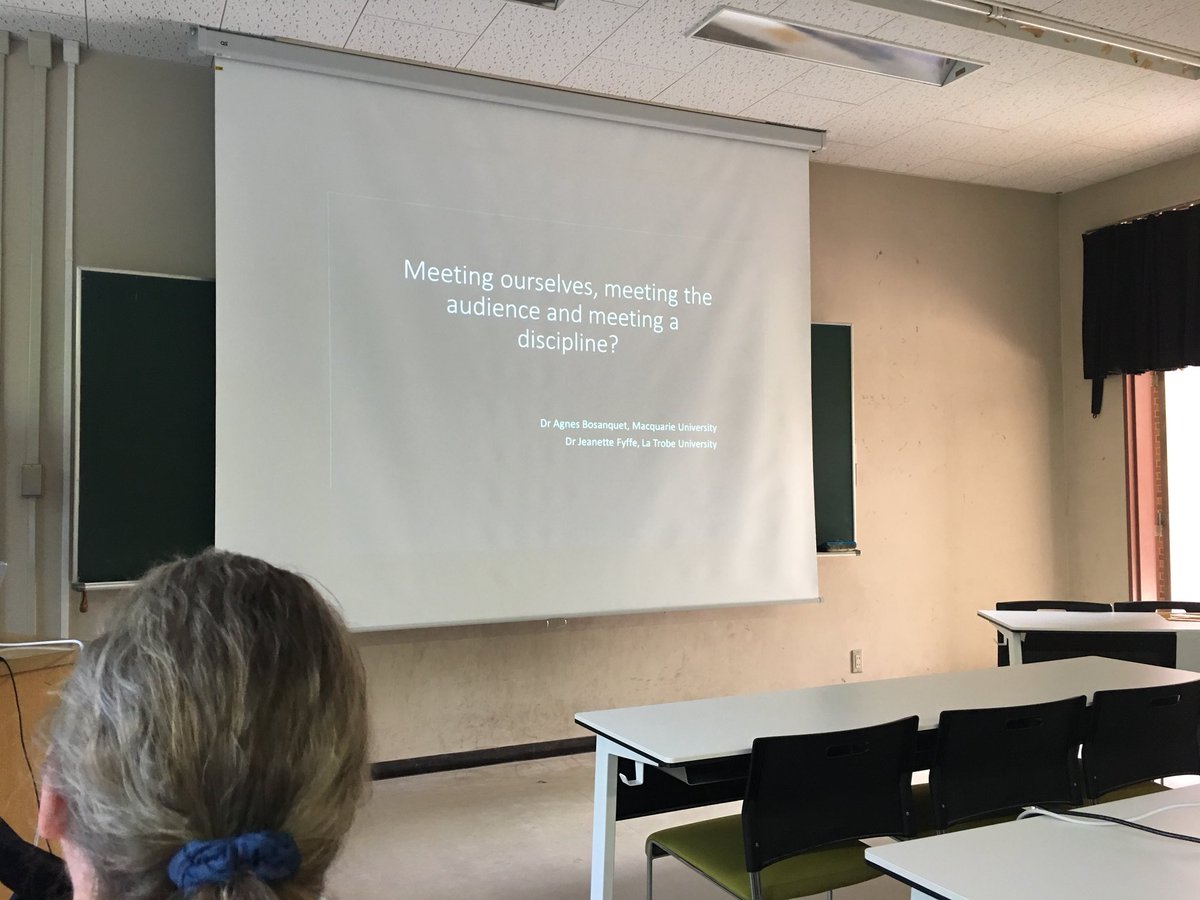 This opportunity to think about conferences at a conference certainly sparked lots of curiosity from colleagues about what we were doing while we were doing it. Given I co-edit this blog, it is no surprise that I find the academic practice of conferencing to be interesting and important. It is just such a treat to have such a smart and collegial crew as my companions in thought.
Bio 
James Burford is a Lecturer in Research Education and Development at La Trobe University. Find him on twitter @jiaburford
Photos of the venue kindly supplied by @Shinji_TATEISHI